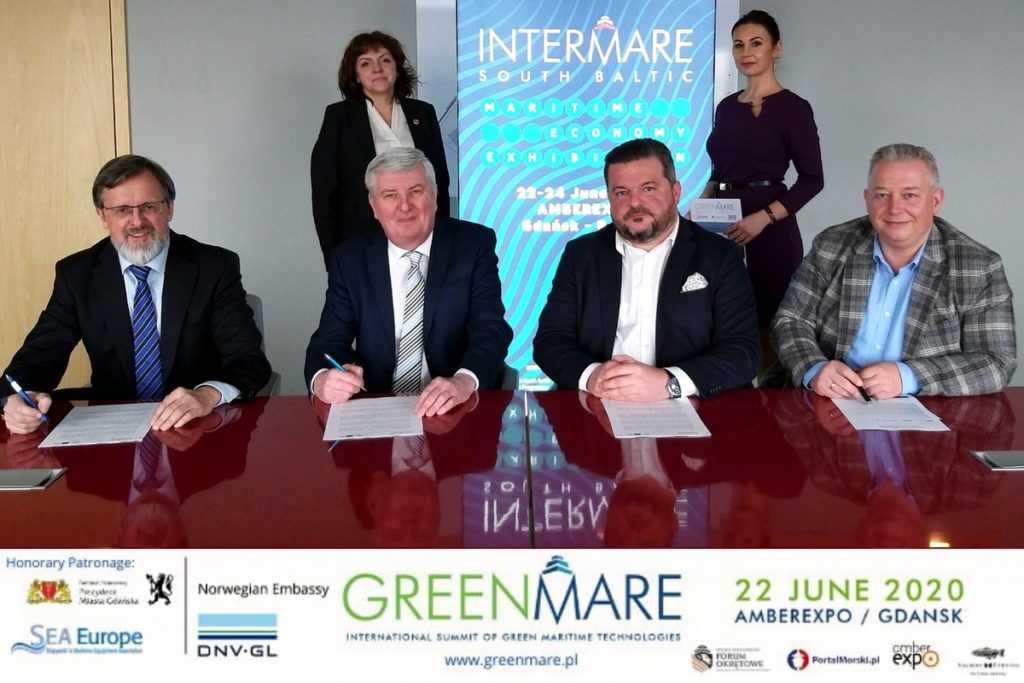 On 19 February 2020, a cooperation agreement was signed in Gdańsk on the organisation of the GREENMARE conference by the FORUM OKRĘTOWE Employers' Association, the MTG SA Gdańsk International Fair Co. and PORTALMORSKI.PL Sp. z o.o.
The event will be held under the honorary auspices of the Embassy of the Kingdom of Norway, the Mayor of Gdańsk, SEA Europe and DNV-GL. The first GREENMARE conference will take place on 22 June 2020 as one of the side events to the InterMarE South Baltic Maritime Economy Exhibition.
The search for environmentally friendly solutions in all areas of our lives has become the urgent need of the moment. Major challenges are currently facing maritime transport as it needs to halve greenhouse gas emissions by 2050. This has to happen within the time frame set by the International Maritime Organization and the European Commission. The process will make it necessary to develop many new, innovative technological solutions not yet available on the market.
This is a great challenge, which is also a great opportunity for the Polish shipbuilding industry to become more engaged in the race for innovation in this area. The idea for ​​the GREENMARE conference was born out of the need to discuss these topics and the event is intended as a forum for the exchange of ideas and experiences of the shipbuilding industry, including shipyards and design offices, propulsion manufacturers, national and European administration, classification and financial institutions.
Finding new solutions together
"It seems that there is a lot of time left until 2050 but, given the lifetime of a ship, the introduction of new technological solutions should begin soon. Are we prepared for this, technology-wise? Many experts in our industry doubt it. The challenge that awaits us is huge, which is why we need to meet and talk about finding new solutions. Our shipbuilding group is already experienced in pro-environmental projects, implemented so far mainly for Norwegian shipowners. Out of the 17 low-emission ships which we have built over the past decade, 10 operate in the country of fjords. We are currently building 7 more such vessels, including 4 electric-powered ferries for the Norwegian market. Now we need to master hydrogen-based and other technologies to ensure a reduction of greenhouse gases. Many businesses in the shipbuilding industry compete with one another on a daily basis but this challenge should bring us together in the search for the best solutions for each company," says Piotr Soyka, President of the FORUM OKRĘTOWE Employers' Association.
"Gdańsk is the most suitable Polish city to hold such a conference. There are several reasons but one of the most important is that our city features the centre of Poland's shipbuilding industry. It is here that the largest Polish shipyards, education and research centres and design offices operate. And it is here that great emphasis is placed on pro-environmental sensitivity so the GREENMARE conference will perfectly match the spirit of our city," emphasises Andrzej Bojanowski, President of the Management Board, MTG SA Gdańsk International Fair Co.
Partnership with Norway
"The Embassy of the Kingdom of Norway will be one of the honorary patrons of our conference, with some of the speakers coming from Norway as well. The reason why we have decided on such a conference format is obvious: Norway is a leader in introducing pro-environmental innovations in maritime transport and we want to establish a close partnership with such a centre, with an exchange of ideas and experiences," says Inacio Golebski, President of DNV-GL Polska.
"Gdańsk and the whole Region of Pomerania have very close economic relations with Norway: many Norwegian companies have opened their branches here and many of our local companies work with businesses in Norway. A conference dedicated to pro-environmental matters, which both our countries need to face, will bring us even closer together and strengthen the relationships that are beneficial to both parties," points out Paweł Orłowski, Vice President of the Management Board, MTG SA Gdańsk International Fair Co.
A conference with a European dimension
"Our team's ambition is to organise conferences with a European dimension and top-class experts. We are beginning this year but we are thinking about it long-term. It will be slightly different from the maritime conferences already in place in Poland. We intend to focus on the challenges of reducing CO2 emissions in maritime transport and discuss all the relevant aspects: new zero-emission propulsion designs, preparations by the shipbuilding industry, design offices, equipment manufacturers, shipowners, classification institutions, and—crucially—financial and legal institutions. The discussions will certainly be very heated because, according to many experts, the political decisions have far exceeded technical and financial capabilities. Such discussions are already taking place at other forums and their temperature always runs very high," emphasises Ireneusz Karaśkiewicz, FORUM OKRĘTOWE Office Director.
"The first GREENMARE conference will be an InterMarE South Baltic Maritime Economy Exhibition side event. In our opinion, this is the most sensible beginning to a conference series which is to permanently feature in the calendar of business events in Gdańsk. After it is completed, we will go over it with our partners and think about a format to be adopted in the years to come," says Magdalena Magdzińska, Deputy Director for Trade Fairs, MTG SA Gdańsk International Fair Co.
"An evening banquet, which will make it possible to continue the hot conference topics in a less formal atmosphere, will be an integral part of the event. We have given it the working name of the SALMON EVENING and its purposes include the integration of the maritime community," says Paulina Żurawska, Promotion and Marketing Specialist.
PORTALMORSKI.PL is a co-organiser of the GREENMARE conference, providing comprehensive media coverage.
The GREENMARE conference programme is available at the link below:
International Summit of Green Maritime Technologies 2020
IK, GL
In the photo (seated, from left): Ireneusz Karaśkiewicz, Ignacio Golebski, Paweł Orłowski and Andrzej Bojanowski; (standing, from left): Magdalena Magdzińska and Paulina Żurawska.