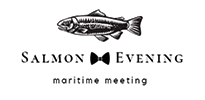 Salmon Evening is a prestigious social event integrating the maritime industry – participants of the InterMarE South Baltic Exhibition and Balt Military Expo Fairs and also the GreenMare and Natcon conferences.
It will be held in the evening, after the first day of the fair, on April 20, 2021.
During the evening, participants will listen to a concert of the soooth-jazz trio by Maciej Łyszkiewicz (the founder of the No Limits group), learn about culinary curiosities about fish, especially salmon – why it is so special and often chosen in the kitchen, as well as what dishes can be prepared from it.
They will be able to participate in the life cooking show performed by the excellent chef Robert Makłowicz, who will not only show how to create your favorite salmon dish, but also pay attention to the way it is served and emphasize its taste.
SALMON EVENING guests will find out which wines are worth choosing and what to consider when serving them to various types of fish. Sommolier and wine connoisseur Serge Bosca will tell about it.
Kamil Baleja, an experienced moderator, radio and TV presenter, journalist and announcer, will take care of the smooth and interesting course of the evening.
This year's Salmon Evening will be held from 19 – 21.30. pm.
Today we invite you to an unforgettable social event, where you will feel like a fish in the water, in a vast social fishery, where the comfort of swimming and safety are included in the price.
Let's meet at an elegant ON LINE party, when you cannot meet otherwise!
SALMON EVENING agenda is coming soon.